Garden Starters Program
Have you ever wanted your own vegetable garden, but have no clue where to start?  Does the thought of getting a garden built, selecting the plants, and keeping them alive give you enough anxiety to skip it altogether? If so, you are not alone.  Every year, millions of people miss out on the opportunity to start their own garden simply because they are overwhelmed with how to start and maintain the plants. We understand this which is exactly why we have came up with the Garden Starters Program.  We take all the guesswork out of the process and allow you to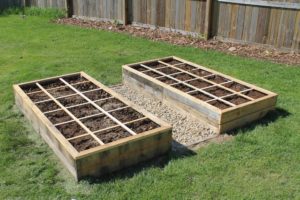 enjoy vegetables all season long.
How it works
One of the main reasons people skip out on vegetable gardens is because they just don't know where to start. With our program, we will come to your home, select a proper location for the garden, build a raised bed, add a perfect combination of garden soil, get your plants or seeds started, and then give you all the information you need to maintain your garden.  We can build the garden exactly to your needs.  With upgrade options including:  Taller raised beds, Drip Line Irrigation, Garden Grids, Top Hat Boxes, and more.
Don't Worry! We don't just start your garden only to disappear and leave you on your own for the rest of the year. You will also receive a folder with all the information for each vegetable you are growing in your garden.  We will also send you weekly emails with information about how much you should be watering the vegetables, what disease or insects to be looking out for, when and how to harvest vegetables, and other information needed to keep your garden thriving
Get Started
Don't let another season go by without the garden you always wanted, but never started.  If you are in the Springfield, MO area, simply fill out an FREE ESTIMATE REQUEST or call us at (417) 861-1154 and we will have one of our professional come to your house to give you a free estimate and plan for your garden. We look forward to hearing from you and helping you on your gardening journey.