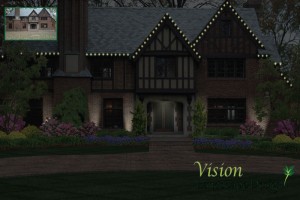 Vision Landscape Lighting designs and installs custom outdoor lighting systems throughout Springfield, MO. Whether it be a private home, townhome, development or commercial location, we can custom design a landscape lighting system that fits your needs best.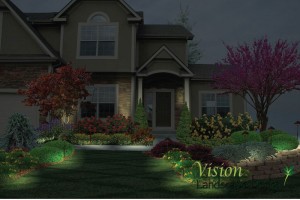 Landscape lighting design is more than just light fixtures. It is artful design and placement to create a dramatic look and feel. Picture soft moon lighting shining through a tree canopy and cascading soft light onto your patio, or up lighting a large maple or birch highlighting its colors and texture. Path lighting can guide guests safely around your property while showing the colors of smaller annuals and perennials. There are many different lighting techniques we can implement to create dramatic night time environments.
The process of designing and installing your outdoor lighting system starts with our initial phone call or email and ends in a nighttime adjustment of the newly installed system. Our clients will receive personal attention from the owner, who handles all designs and final adjustments to your project.
LED Landscape Lighting
We offer 12 volt and 24 volt Halogen and LED Low Voltage landscape lighting systems. LED lamps, while more expensive up front, use a lot less energy and enables us to use more fixtures on a transformer saving energy consumption in the long run.
On/off controls for your system could be as simple as timer and photocell to home automation controls. With home automation controls we can create various lighting scenes throughout the property for different times of year, different events, or different times of night. We can link in existing wall scones or even interior foyer lighting to the outdoor lighting scene.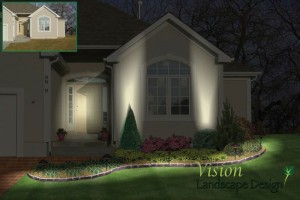 Systems pricing varies depending on scope of project and desired fixtures. There is an estimate of system costs on the FAQ page. We proudly accept Visa, MasterCard, and Discover cards.
Landscape Lighting Design Service
Want to see what your landscape lighting will look like before we begin? We are one of the only companies in Springfield MO to offer this service! Request a Free Estimate today.
3D Renderings