Why choose Vision Landscape for your lawn care?
                                     Top Quality
At Vision Landscape, we pride ourselves not only in our landscaping, but also our lawn care services.  We provide your lawn with the utmost care to maintain an envious appearance at all times.  Whether we are mowing, aerating, dethatching, fertilizing, or servicing your lawn any other way, you can rest assured that you are receiving top quality service as competitive pricing.
                                                          Free Services and Discounts
Another reason to sign up for lawn care with Vision is because in doing so, you automatically receive 10% off all other services, plus free landscape design!  This means 10% off  installation, landscape maintenance, landscape lighting, snow removal, Christmas light installation, and many more services we offer.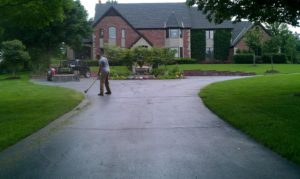 We also offer discounts and finder's fees to customers who refer our services which results in a new customer
Request a Free Estimate today and one of our knowledgeable staff will come to your home and provide you with pricing and packages for your lawn care needs.  We provide our lawn care services to all communities surround the Springfield, MO area.