Paver Patio Vs. Concrete Patio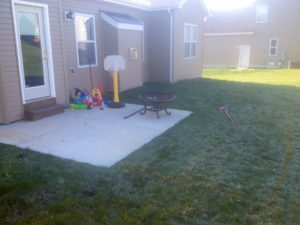 One question we constantly have customers asking Is "Do you recommend a concrete patio or paver patio?".  Our immediate answer is always "Pavers".  Below we offer 4 reasons as to why we believe paver patios are superior to concrete.  What do you think?  Share your thoughts in the comments section.
Variety
Paver stones come in all shapes, sizes, colors, patterns, and textures.  Many options are available which range from cobblestone, manufactured flagstone, large stones, small stones, wall stones, cap stones, and so on.  The options available for a paver patio are endless which gives you the ability to bring out your home's personality in the design of the patio. Patio borders, walls, and fire pits are just several more aspects that can take your paver patio to another level.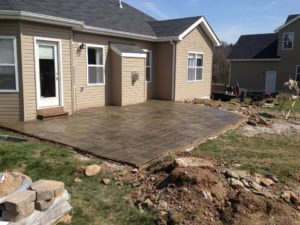 One way to customize concrete is to stamp it with a design.  While this can add to the aesthetics of the patio, the color will fade and the patio will be prone to cracking over time.  Its simply not the same as a true paver patio.
Durability
Concrete patios will tend to crack and discolor over time. Stamped concrete will fade its color since it is only placed in the top layer of the patio.  Because the entire cement patio is one single slab, settling in the base will cause stress on the entire slab and will cause cracks to form. Over time these cracks will expand as more settling occurs as well as expansion from ice during the winter.
However, paver patios are designed so that in the event of settling in the base, there will be no cracking since the patio is composed of many stones.  Pavers also allow for proper drainage so that expansion from ice does not alter the patio.   Also, the color of the stone goes all the way through the stone and will not fade.
Repair
Repairing a crack in a concrete patio is costly and takes more time than that of a paver patio. The repair of the concrete is often visible even after completion.  In some circumstances, the entire slab will have to be replaced. Maintenance on a concrete patio is simply pressure washing or staining the surface.
If a paver is damaged, the process to replace it is very easy as it is lifted up out of the patio and replaced with a new stone.   Proper maintenance of a paver patio would include adding polymeric sand (joint sand) every couple years.
Installation
Paver patios can be installed in the same amount of time or less than that of a concrete patio.  However, paver patios can be used right away whereas concrete will need several days to dry and set.  No one wants to wait an unnecessary amount of time once the patio is complete.  That's like placing the dog bone on the counter so that he can see it, but not eat it!  This becomes more evident in instances when the patio will be need to be used quickly.