Are you looking for a company for Shrub Trimming in Springfield MO. Then you have came the right place. Let's talk about this service.  Hedges and other shrubbery can beautify any property, adding a touch of sophistication and class. Professional landscapers and realtors know that a properly landscaped home not only adds beauty, it also adds value to the property.
Have you ever tried to prune a hedge or large shrub by yourself? If you tried that, you would have to step back after every cut to see if you had altered the tree's shape too dramatically – and then it could be too much too late!
Call today for your free estimate – usually within the same day or next day in most cases!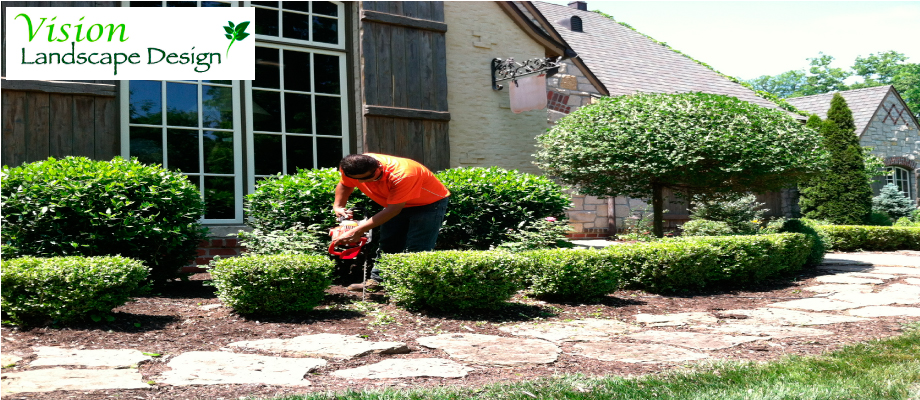 HEDGE AND SHRUB PRUNING BENEFITS
Adds to property value, street appeal, overall property attractiveness.
Promotes healthy growth.
Problem hedges contained and controlled. Hedges and shrubs tend to become overgrown, overwhelming, and out of control. Without proper training they can become too close to structures and pathways and even overhang roofs causing damage by rubbing and wearing, dropping leaves and debris into gutters. Excessive foliage can leave residents feeling subdued, as if the plants are taking over. Our trimming service alleviates these problems.
Relief. Folks find a great deal of satisfaction knowing their yard is taken care of to an acceptable standard and that they don't have to do it themselves anymore. Let us at Vision Landscape take the risks involved, climbing ladders and controlling growth.
Joy and Happiness. Emotions brought out by beautifully pruned trees and shrubs.
Ease. We do the work ourselves. When we give you a free consultation and estimate we include the satisfaction of knowing that experienced and insred crews will be doing the work from the first-hand knowledge of what you want.
FAQ'S
What are the benefits of shrub trimming?
Maintenance to renovate hedges and shrubs that need stimulation, where strong regrowth is wanted.
To recover from winter damage.
For light or view, so that the effect can be judged when hedges are in full leaf.
Counteract the rush of spring growth.
Tame hedges that are thick and mature.
Clean up debris and create mulch.
Cut back growth near power lines or buildings, or overhanging walkways.
To improve structure and stability.
What time of the year is best?

Most well maintained hedges are trimmed at least twice a year. The first trim will be in May after the spring growing spurt. The second trim will be in late Sept. or Oct. before the fall rains. If you have an evergreen hedge that is out of control then any time is okay, except when it is hot, as in July or August. It will take a couple of growing seasons and several trims to train a hedge back to looking neat. If a hedge is trimmed to severely it may take years to recover. It is better to trim a small amount regularly.
My neighbour's trees encroach over my boundary. Can I cut them back?
Your common law rights allow you to remove branches that cross over your boundary, without your neighbour's permission. However, you must not cross the boundary to do so. For example, leaning a ladder over the boundary to rest against the trunk of the tree could be classed as trespass. We advise you to notify your neighbor of your intentions as a courtesy before scheduling any work to be done.
Just give us a call at (417)861-1154 when you are ready.